Karl Hevacheck
Talk

0
30pages on
this wiki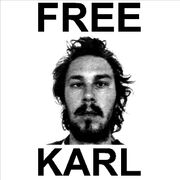 Karl Hevacheck is a recurring character on the television show Workaholics. Played by Kyle Newacheck, who is also the director.
Karl is Adam's drug dealer and Blake's friend, and is believed to be "the smartest person [they] know", as well as the "human genius", despite the fact that he holds no formal education. In an act of unbridled intelligence, he spray-painted "RAPE VAN" onto the side of his automobile, inorder to deter would-be theives from encroaching upon his property. Furthermore, he wears two different colored socks, enjoys camel-flage clothing, and is a fan of surprise sandwiches.
A budding musician, Karl is the brains and talent behind a concept album, We're Banging Aliens, which is "about a dude who goes into space and bangs an alien." He also has a wonky eye, that, according to Adam, "makes it's own rules".
He was sent to jail, for breaking and entering, in the first season episode To Friend a Predator, when eyewitness Anders tipped of the police, upholding his post as the Rancho Cucamonga neighborhood watch.
In the second season episode "Karl's Wedding," Karl briefly attempts to clean up his act in order to marry Hannah, a credit union worker whom he considered "classy." Hannah, however, is dismayed, and reveals to Karl that she only planned on marrying him to anger her parents since he is "water trash."