Ad blocker interference detected!
Wikia is a free-to-use site that makes money from advertising. We have a modified experience for viewers using ad blockers

Wikia is not accessible if you've made further modifications. Remove the custom ad blocker rule(s) and the page will load as expected.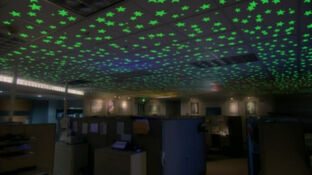 Catherine Zeta Jones, she dips beneath lasers
, woah oh oh
She has entrapped me, and Sean Connery, woah oh oh
She Dips Beneath Lasers is the eerily haunting tune sung by Adam in the first season episode, Office Campout. The song refers to the virtuous acting in "...Entrapment, the Catherine Zeta Jones vehicle. It's a classic." The end of the episode shows Adam, along with Blake, Anders, and the two techies (whom the guys had thought were robbers) using psychotropic mushrooms, and singing the song in the dark office with hundreds of glow stars attached to the ceiling, with rather warm harmony.
External Links
Edit