Ad blocker interference detected!
Wikia is a free-to-use site that makes money from advertising. We have a modified experience for viewers using ad blockers

Wikia is not accessible if you've made further modifications. Remove the custom ad blocker rule(s) and the page will load as expected.
Straight Up Juggahos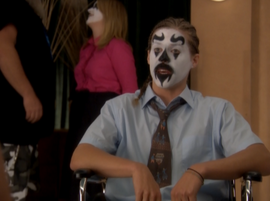 "That, my friend, is totally loose butthole."
"Excuse me? This entire outfit is completely tight butthole."
Straight Up Juggahos is the seventh episode in the first season of Workaholics. It first aired on May 18, 2011.
Synopsis
Edit
Blake, Anders, and Adam set Jillian up for a blind date at a Insane Clown Posse rally on accident. The guys themselves end up in a juggalo convention, where Anders completes his dream of being a rap star, Adam has a date with an overweight woman, and Blake meets his match, a crippled man who cut off a portion of his hair the year before.
Main Cast
Edit
Recurring Cast
Edit
Jillian Bell as Jillian Belk
Kyle Newacheck as Karl Hevacheck
Waymond Lee as Waymond
Rebel Wilson as Big Money Hustla
David King as Davis