To Friend a Predator
Talk

0
31pages on
this wiki
To Friend a Predator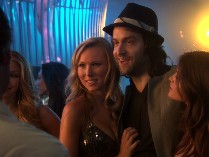 "Let's try an experiment. You love ten year old boys, right?"
"Ten to twelve."
To Friend A Predator is the eighth episode in the first season of Workaholics. It first aired on May 25, 2011.
Synopsis
Edit
Blake and Jillian team up to take down BieberHole69, a man on their local chapter of the Justin Bieber fan club who sends dirty pictures to the "Beliebers" and makes fellow community members feel uncomfortable. Blake, Adam, and Anders set up a "To Catch A Predator"-styled trap for the pederast. However, upon his arrival, he introduces himself as Topher and tries to convince the guys that he has the wrong address. Although Adam isn't entirely convinced, a quick conversation regarding the new Vape-Tron on the desk leads to Topher's offering of marijuana, and they all become quick friends.
A mutually beneficial relationship springs between the four, with Topher introducing the guys to beautiful and influential people, and the guys attempting to steer Topher away from having sex with underage boys. In the end, Jillian is sexually harassed by Topher for the last time via the internet, and has the police come to take him away. He eludes the guys as they each try to stop him in a different manner, but is shortly captured, with significant ease, by local officers. He quickly identified his cellmate in lock-up (Karl, who had been arrested earlier in the episode for breaking and entering) as the guy from Blake's shirt.
Main Cast
Edit
Recurring Cast
Edit
Jillian Bell as Jillian Belk
Kyle Newacheck as Karl Hevacheck
Waymond Lee as Waymond
Memorable Quotes
Edit
Adam: "Yeah, count me in, we're just gonna rip this guy's heart out, right? Just take the heart out and suck on the cochlea. That came out weird, but I'm gonna do that. I'm sweating right now! Why am I sweating so badly?"
Adam: "Hey, I'm ten years old, but I'm built like an eight year old... So come and get it!"
Topher: "Well, throw out a flag and push me back ten yards, because I'm hooooolding"
Topher: "What up, I'm Topher"
Topher: "Hey bro chill out, they live in the Penthouse Penthouse, that's just like the Playboy Mansion only this time it's much more doper. All these pretty chicks run around, penetration, and... pissing on the floor if that's what you're into."
Topher: "Hey why don't you guys meet me back in the VIP booth in 5 minutos, that's Spanish for minutes."
Anders: "Whoa my god, she just totally touched both of my nipples with one hand at the same time."
Topher: "Chill out, it's on. Because I told them you were coke dealers, and all three of them have really bad coke problems."
Topher: "Oh Vince? We went to middle schools together. School. Middle School. One school."
Adam: "We're just going to chill out, get a couple more drinks, and let's just make tonight a tight butthole!"
Anders: "Here comes the neighborhood watch, motherfucker!"
Adam: "Topher, this spud's for you..."
Blake: "Adam, you idiot, you dumb idiot."
Topher: "Alright guys, bros before hoes. But, you know, little bros before big bros."
Karl: "Probably, man. Probably."
Topher: "Hey, you guys know you have a really victorian attitude torwad sex. What do you think the sixties was all about, dude?"
Topher: "Man, I'm sick of getting persecuted and judged for being a sexual maven, man. I'm not going to stand for that anymore, man."
Topher: "Hey, who's that chick?"
Topher: "Whatup I'm Topher I'm friends with the guys now."
Anders: "I'm basically Darkwing Duck!"