We Be Ballin'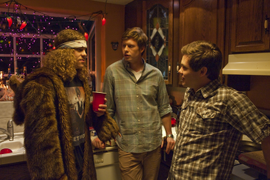 "Did the world know Ludacris could act?!"
We Be Ballin' is a Workaholics episode that aired on April 13, 2011. It is the second episode in the first season.
Synopsis
Edit
Adam is infatuated with his 3rd love Chelsie Neiderdeppy. So, the guys attempt to impress her by taking her to a Los Angeles Clippers game that is sold out. They try to find ways to go to the game including staging a fake bomb threat and sneaking in when the audience and players are evacuated out of the stadium.
Main Cast
Edit
Recurring Cast
Edit
Jillian Bell as Jillian Belk
Erik Griffin as Montez Walker
Andres Cruz as Montez Walker, Jr.
External Links
Edit